AUCKLAND (AHI) – DUCTED INSTALLERS COURSE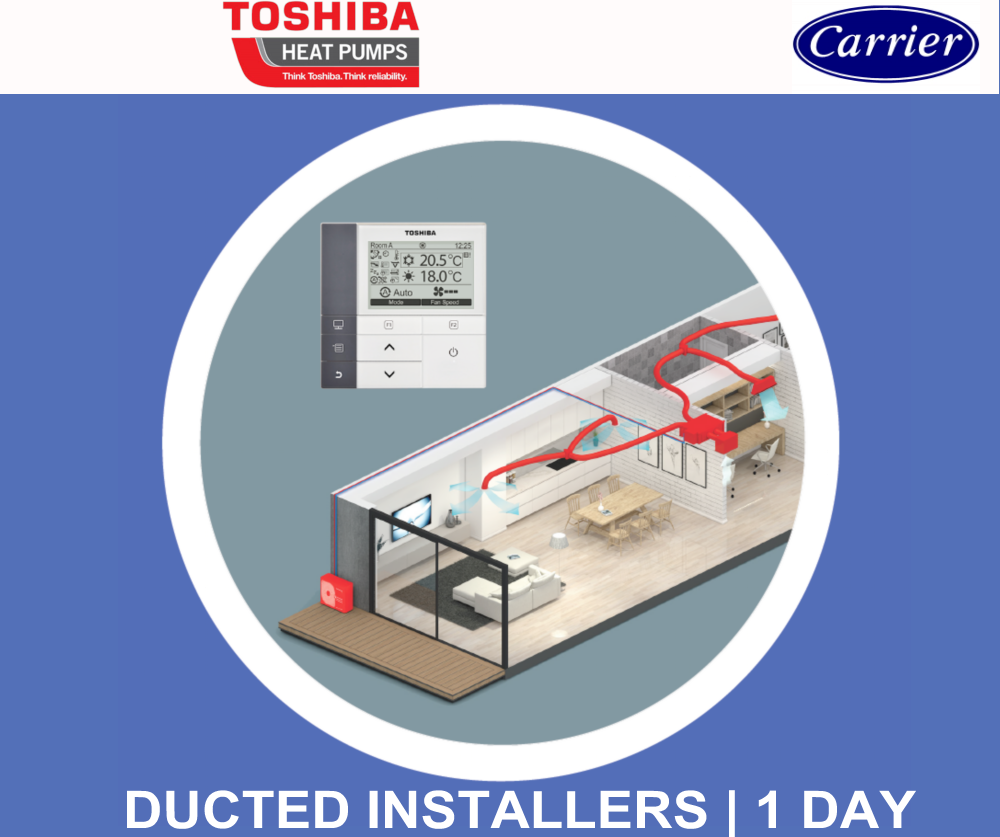 Event Date:
October 22, 2021
Event Location:
AHI CARRIER
3 DAY COURSE
SCROLL TO THE BOTTOM TO REGISTER
Please Note: You are advised to bring along your own installation tools to attend the course. A list of the requirements will be provided at the time of booking. While not essential it is a good idea to gain practice with the tools you are using already or will be using after the course to install split system heat pumps.
Over the three days the course runs you will learn best practice installation techniques for split system heat pumps. Including correct use of many of the specialist tools, Pipe brazing is also covered with practical hands on work. You will also install a heat pump while supervised and learn the right way to do it, resulting in less call backs and a much better end result for the consumer.
Objective
To provide the delegate with the basics of air conditioning & heat pump split system installation. Its content is based around best practice guidelines and is part theory and part practical. You will learn safe practices and the best techniques for a successful installation of a split system. It is highly recommended that the delegate is either a refrigeration engineer wishing to start to install heat pumps or a practicing electrician with the same requirement.
Benefits
Understand how to install a split system heat pump.
Work safely and understand the risks with refrigerant gas.
Understand the reason for using certain specialist tools. How they work and why they have to be used.
Grow your business by offering the installation of a split system heat pump.
Avoid costly mistakes that can cause premature failure of the equipment.
Learn techniques to improve unit selection for installation.
Plus much more….
Content
Installation (a selection of some of the content included)
Equipment selection. 
Correct positioning of indoor and outdoor units. 
Understanding noise issues and mitigation techniques.
Correct mounting of the outdoor unit.
Anti Vibration.
Use of brackets and possible problems to avoid.
Correct mounting of the indoor unit.
Pipe work handling techniques. Handling issues. How to prevent common problems.
Condensate management.
Flaring of copper pipe to joints.
Correct use of Oxy-Free nitrogen.
Pressure Testing. 
Leak Testing
Dehydration and use of the vacuum pump and vacuum gauge.
Electrical Isolators.
Breaking the vacuum ready for use.
Operational testing.
Client Handover
Selection
Unit sizing. Avoid common problems.
Healthy homes standards. The legislation.
Meeting clients expectations.
Planning the install 
Interface to fresh air 
Commissioning / Client Handover 
Remote control operation and position.
Maintenance requirements.
Defrost explained